Hello! My name is Mrs. Jocelyn Taylor – Mrs. Joce – and I am so excited to be the Montessori Directress at Angel Wings Montessori. I enjoy furthering my education, so I am enrolled at Red Deer College, majoring in Early Childhood Education. I live with my husband, Dom, my dog, Bow, 2 sheep, Morse and Lewis, and 5 hens. My 2 children are now adults, and I have 1 grandson.
My Montessori Journey.
My life as a Montessori guide started in 2003; after studying for 3 years with MCI, a Montessori college in the UK, I graduated with an Early Childhood Education Diploma in Montessori Pedagogy. This is my passion because I love how the prepared Montessori environment and philosophies encourages the child to become an independent, confident, mighty leaner who is inquisitive, respectful, peaceful and joyful.
In 2014, I was nominated for the Alberta Child Development Professional Award of Excellence, and I continue to strive for excellence in my daily Montessori practice.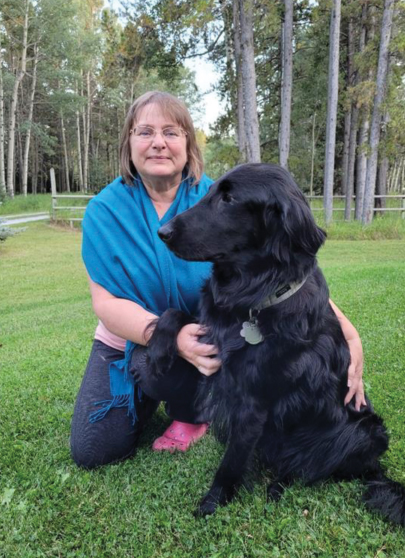 FUN FACTS!
✓ Colour – sea green and purple.
✓ Food – seafood
✓ Books – Espionage, and pirate stories!
✓ Films – James Bond.
✓ Hobbies- Walking or hiking with my dog.
✓ What I love – My family.
✓ Music – Queen, The Beatles, Bruno Mars, Ed Sheeran, Vivaldi's Four Seasons.
✓ Animals- Wildlife, especially Porcupines!
✓ I wish I could be – Close to the ocean, listening to the waves