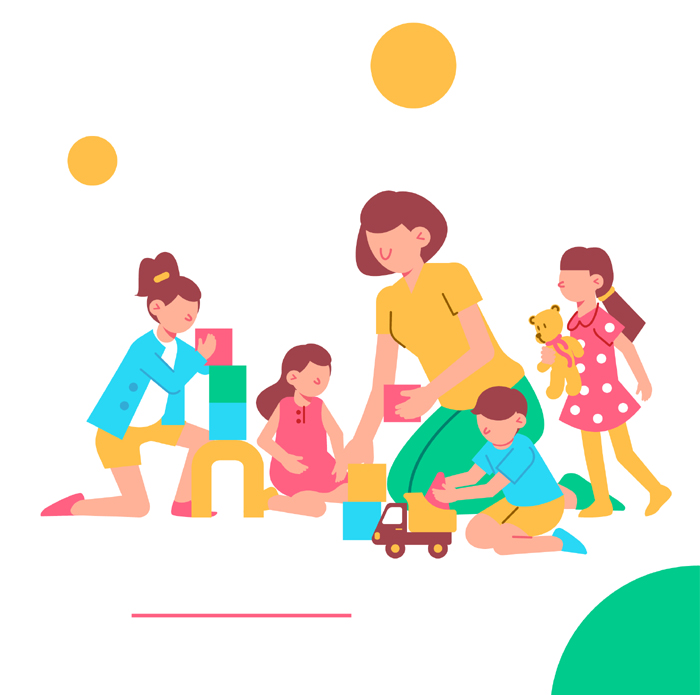 We are a small family-owned business. Of a primary goal is to provide a happy, healthy, safe and stimulating environment for your child. Divya the owner has worked as an early childhood educator and a program supervisor for many years and realized there was more that she could bring to the children which is why she opened angel wings daycare and Montessori preschool education. This is not your conventional daycare! This is a daycare and preschool program that will make a difference in your child's development. This is a place you can leave your child with peace of mind that they are receiving the best quality Care an education.
The Montessori classroom is a child's sized world.
Whatever is in the outside world can be incorporated meaningfully in the Montessori classroom. By careful selection of materials, an environment is set up that allows the child to explore life at a level they can understand. The materials or exercises are designed to stimulate independent exploration. This prepared environment entices the child to proceed at their own pace from simple activities to more complex ones. Through this process, the child's natural curiosity is satisfied and they begin to experience the joy of discovering the world around them.
There are 5 distinguishing areas of a Montessori classroom:
Practical Life
The exercises in this area enable the child to become independent individuals by learning how to care for themselves and their environment. These exercises help the child develop concentration and coordination skills.
Sensorial
The sensorial materials help the child distinguish, classify and categorize sensory impressions by isolating one defining quality such as color, weight, size, sound, texture, etc.
Mathematics
These materials help the child make concrete representations of abstract mathematical concepts. The materials allow the child to demonstrate many mathematical operations, which eventually develops into early enthusiasm for numbers.
​Language
The language materials foster and enrich oral language development, written expression, reading skills and the study of grammar. The exercises allow the children to interrelate the phonetic sounds of the alphabet and their symbols in an enjoyable and effortless manner.
Culture
The cultural subjects that are a part of the Montessori program are art, music, dance, history, geography and biology.
Our Program Goals
To enrich and enhance the social, physical, intellectual, creative and emotional growth of each child.
These goals are achieved by providing a program that:
​Allows the child to respect himself and others.
Facilitates a child's interaction with peers and adults, to participate as an independent individual as well as a member of a group and to have opportunities to learn and develop social skills.
Encourages both active movement and quiet activities, indoor and outdoor activities in safe and healthy surrounding.
​Enables children to develop intellectually by becoming a lover of work spontaneously chosen and carried out by joy. Also, by being able to experiment, to observe and to explore their surroundings.
​Develops children's creative needs by encouraging them to invent, discover and explore.
Provides an environment where the children feel comfortable, accepted, respected, secure, listened to and understood.